Odoo Implementation
Write one or two paragraphs describing your product or services. To be successful your content needs to be useful to your readers.
Start with the customer – find out what they want and give it to them.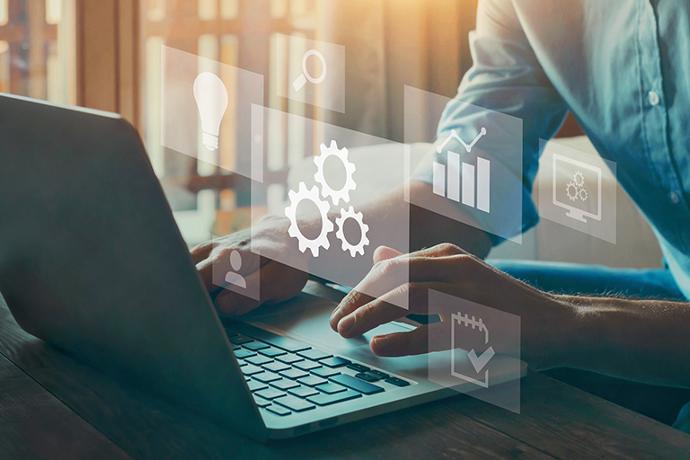 Requirement Analysis
We initially comprehend your business needs accurately. It is very hard to develop the perfect solutions without comprehending and analyzing your business requirement. We keep customer desires on top priority while making decisions.ature.

Customization and Development
Post comprehension, we go ahead with development of Odoo ERP. The idea behind developing module is to serve your business at the right way. We ensure that development is done in accordance with industrial norms and standards.

Odoo Deployment and Configuration
We give you great flexibility in configuration as per your business requirements. We take care all the ERP functions and analysis tools to match your company's needs. Users can thereby get the ultimate customizations and personalization in their work page


Data Migration
Data Migration is one of the pivotal element in ERP implementation. For a successful business run, data should be intact and proper. We take utmost care and attention by transferring your existing data from the present application including software, excel files, old versions of Odoo etc. to the new Odoo ERP.


Training and Support
As Odoo is vast and big, a good training will enhance professionalism. We provide successful Odoo Training to end users after the implementation via various communication mediums like Skype, Teamviewer, videos and allied documents.


Make it Live
Always beside you as a helping hand to handle all the hazy situations. We help you to figure out the best implementation of your ERP and thereby establish your business at a higher stage

Odoo Implementation Process

Step 1

Define Desire Business Goals
Initially we need to define the desired business goals accurately. Then only the providers can able to suggest best suitable solutions to clients.

Step 2

Allocate Budget
​
in this stage client need to allocate a budget for their ERP implementation.
Step 3

Define Implementation Phases
We need to define different implementation phases and its plan of execution.

Step 4

Select The Best Hosting Plan
We need to select best suitable hosting plan for our selected ERP.

Step 5

Installation And Configuration
We will install and configure our ERP as per our needs.

Step 6

Data Migration
We will migrate your essential old data to our new ERP

Step 7

Testing
We will do the proper testing of whole ERP.

Step 8

Training
Will do the training to our ERP users.

Step 9

Go Live
We will go live and start to use the ERP

Step 10

Support And Maintanance
We will do the needed maintenance and support

Why Synergy
Our team would help you in finding out the technical problem you facing.
​​ Odoo partner.
​ High coding standards.
​ High quality deliverables.
​ ​ ​​ Expert in all versions of Odoo.
​ ​ ​ ​ ​​ Top contributor of industrial add-ons in Odoo apps.
​ ​ ​ ​ ​ ​ ​
​ ​ ​ ​ ​ ​ ​ ​ ​ ​ ​ ​ ​ ​ ​ ​ ​ ​
​ ​ ​ ​ ​ ​ ​ ​ ​ ​ ​ ​ Technical and functional expertise in all Odoo modules.
​ ​ ​ ​ ​ ​ ​ ​ ​ ​ ​ ​Service in both enterprise and community editions.
​ ​ ​ ​ ​ ​ ​ ​ ​ ​ ​​ ​​ 1000+ satisfied customers across the globe
​ ​ ​ ​ ​ ​ ​ ​ ​ ​​​​ Enriched with UI/UX expert developers.
​ ​ ​ ​ ​ ​ ​ ​ ​ ​ ​​
​ ​ ​ ​ ​ ​ ​ ​ ​ ​
Odoo ERP Implementation Services
Implementing ERP in right way is the key to successful business. A successful ERP implementation solely depends on the implementation partner you choose for your work. SAAS is an exponent in Odoo and has long period of experience for more than 13+ years in Odoo implementation, Odoo integration, Odoo support and maintenance, Odoo customization and Odoo migration. Being an Odoo Gold Partner, SAAS have a long term of experience in building Odoo modules effectively. Today we pride ourselves on composing quality code, being the top contributor in Odoo Apps with most number of downloads and 100% fulfillment rating for all our Odoo clients. Additionally, Cybrosys in-house highly skilled developers and designers with rich knowledge of programming dialects. We offer a complete and comprehensive Odoo implementation support to our client base.
SAAs have provided an array of Odoo implementation services and covered all the major industries like trading, manufacturing, e-commerce, accounts and finance etc. We have implemented numerous successful projects for our valued clients in countries across Middle East, Europe, Africa and Asia. This has given us the skills and expertise to deliver every project with supreme ease, no matter how big or small they are.

Business industries in odoo
Each module performs certain functions which are interlinked with each other.
Frequently Asked Questions
Why should I choose Synergy for odoo implementation?
The availability of technical and functional consultants makes Synerg the best odoo implementation partner for your company. 5+ Years of experience and knowledge in every industry domains, make SAAS's project undertakings fool-proof and robust. We always keep customer desires on top priority while making every decision

Why choose Odoo partners over freelancers for Odoo implementation?
It is better to go for Odoo partners than freelancers for Odoo Implementation, as Odoo partners are more qualified and trained professionals. Being certified, Odoo Partners always adhere to standards and professional methodologies.Also, Odoo partners are experts in all industry domains and have access to Enterprise Edition source code, offering boundless Odoo services
What makes Odoo implementation pocket-friendly?
You can lower the cost of Odoo implementation by adding only essential modules that are required for your business. Lesser the modules, lesser the Odoo implementation costs. With no license fees unlike proprietary ERPs, Odoo community edition further lowers down the cost of Odoo implementation. Odoo enterprise online edition, brings down further the expense, as no additional infrastructures are demanded.

Why should I opt Odoo over other ERPs?
Odoo saves you with a lot of money, leaving them for utilizing in future customizations and other essentials. Secondly, Odoo offers the unlimited possibility of customizations in the ERP. Numerous custom feature modules help the business achieve business results with greater ease. Also with Odoo, there is no risk of getting locked in either by the vendor or technology.


Odoo Customization

Odoo Support & Maintenance







Odoo Licensing & Cosultancy